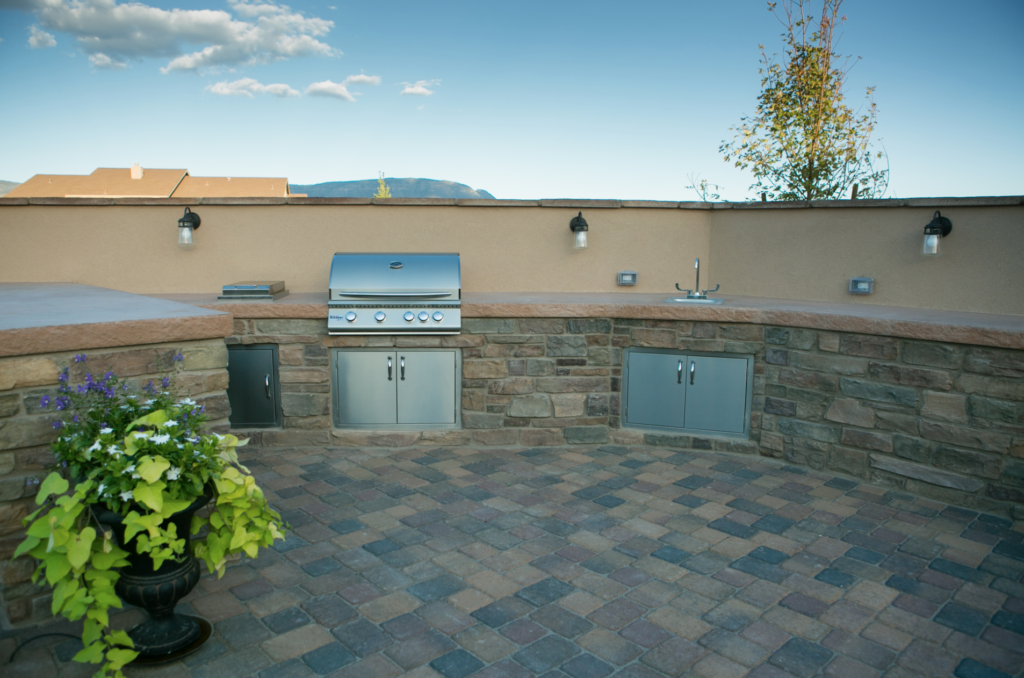 Summer is the perfect time to gather with friends and family, enjoying the great outdoors. With the expertise of Vicente Landscaping, you can take your outdoor entertainment to the next level and host memorable summer gatherings. In this blog post, we'll explore creative and exciting ideas to transform your outdoor space into a haven for socializing and fun. Call us at 928-636-1601 for more information on how we can help you create an enchanting setting for unforgettable summer get-togethers.
Outdoor Dining:
Take your summer gatherings to new heights by incorporating an outdoor kitchen into your entertainment space. An outdoor kitchen allows you to cook, grill, and entertain guests simultaneously, ensuring everyone stays engaged and well-fed. With the assistance of Vicente Landscaping, you can design a custom outdoor kitchen equipped with a grill, countertops, a sink, and even a pizza oven. It will become the focal point of your gatherings, providing convenience and a delightful culinary experience for all.
Enchanting Lighting Design:
Illuminate your outdoor space with captivating lighting to create a magical ambiance for your summer gatherings. From string lights draped above your seating area to lanterns scattered throughout your landscape, the right lighting can transform your backyard into a captivating oasis. With our expertise, you can explore various lighting options, such as pathway lights, spotlights, or even LED installations, to enhance the atmosphere and ensure your guests are immersed in an enchanting outdoor setting.
Cozy Fire Features:
Introduce a cozy and inviting atmosphere with fire features, perfect for cool summer evenings. Consider installing a fire pit or an outdoor fireplace, creating a focal point for gathering and conversation. Your guests can cozy up around the crackling fire, roasting marshmallows or simply enjoying the warmth and ambiance. We can help you design and incorporate fire features that harmonize with your outdoor space, ensuring comfort and relaxation for your summer gatherings.
Outdoor Entertainment Zones:
Designate specific areas in your outdoor space for entertainment activities, providing opportunities for fun and excitement. Set up a cozy seating arrangement around an outdoor television or projector screen for outdoor movie nights. Create a gaming area with activities like lawn games, a ping pong table, or even a mini-golf setup. Vicente Landscaping can assist in optimizing your outdoor space, ensuring you have dedicated zones that cater to various entertainment options, making your summer gatherings unforgettable.
Lush Landscaping Enhancements:
Enhance your outdoor entertainment area with lush landscaping elements that add beauty and tranquility to your gatherings. Incorporate vibrant flower beds, potted plants, or vertical gardens to create a vibrant backdrop for your events. Consider adding water features, such as a fountain or a small pond, to introduce a soothing and refreshing ambiance. Vicente Landscaping's expertise in landscape design can help you select the perfect plantings and features that complement your outdoor entertainment vision.
Conclusion:
Elevate your summer gatherings and create lasting memories with these outdoor entertainment ideas by Vicente Landscaping. From creating enchanting dining experiences to captivating lighting designs, cozy fire features, designated entertainment zones, and lush landscaping enhancements, Vicente Landscaping can help transform your outdoor space into a haven for unforgettable summer get-togethers. Contact us today 928-636-1601.